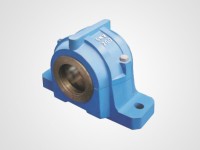 SNV Type Plummer Block Housings Are Horizontally Split Design And Fully Interchangeable With SNH Series Plummer Blocks. The Dimensions Of SNV Housings Are In Accordance With ISO 113/II. They Are Normally Made Of Grey Cast Iron But They Can Be Available In Cast Steel Or Ductile Iron (Spherical Graphite Iron) On Request.
SNV Series Are Suitable For Spherical Roller Bearing And Ball Bearing Either Mounted On Adapter Sleeve Or Directly On Shaft. Normal Range Varies From 20 Mm To 140 Mm Shaft Diameter. Depending On Operating Condition, Felt Seal (TC), Labyrinth Seal (TS), V Ring Seals (TA), Or Double Lip Seal (TG) And Taconite Seal Are Provided. Normal Construction Has Two Foundation Holes At Base For Fixing The Housing, However On Request, Four Foundation Holes At Base Are Also Provided. For Located Bearing Arrangement, Locating Rings Are Supplied. SNV Plummer Blocks Have Dowel Pin At Mating Surface Of Cap And Base To Ensure Correct Alignment Of The Two Halves. The Cap Of One Plummer Block Is Never Interchangeable With Other Plummr Block.
SNV Type Can Accommodate High Loads Due To Its Modular Construction And Stronger Design. They Can Be Used For Grease Lubrication In General Or Oil Lubrication Whenever Necessary.